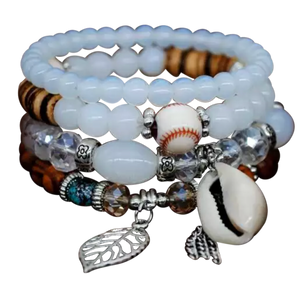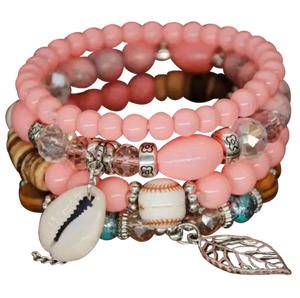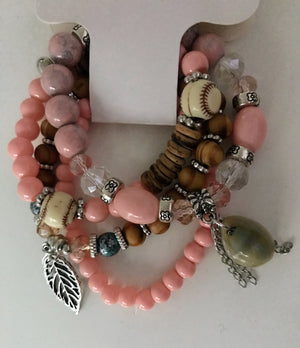 Boho-inspired, four piece bracelet
What is better than one bracelet? Four bracelets of course! Keep up with modern fashion trends by having this boho-inspired, four piece bracelet on your arm. Each one of the four bracelets has a distinctive design that sets it apart from the next. 
Each of the four piece bracelets certainly emits a summer vibe, thanks to the neutral colour palette it has. On top of the summery palette, you also have a slight beach vibe due in part to the shell beads attached to the bracelet.
For the more statement, fashion conscious enthusiast, why not try stacking this boho-inspired, four piece bracelet with 2 sets of 8 bracelets.
A must-have accessory for any trendsetter!
Don't delay in purchasing, these lovely beads don't last long.
Materials: Zinc alloy and rope chain.
Approximate bead thickness: 5mm-8mm
Colours: Pink/Brown and White/Brown
Shell charms attached
Boho-inspired, four piece bracelet