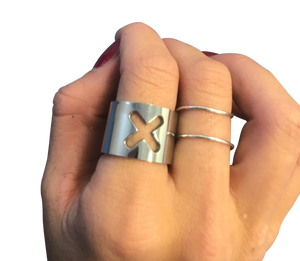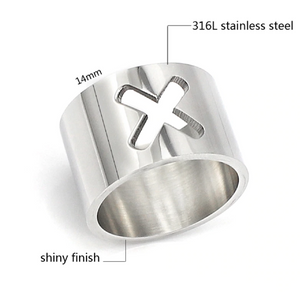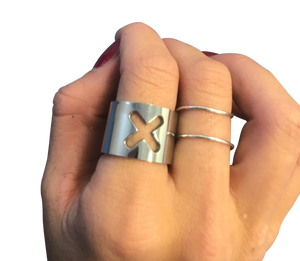 Cut-out Cross Chunky Silver Metal Ring
Crosses, they can mean so many things. X marks the spot, XO for kisses and hugs or just because it looks good on a ring. Whichever your reason for loving the Cut-out Cross Chunky Silver Metal Ring X symbol, one thing is for sure, this is a fashionable piece to have.
This 14mm cut-out cross ring would make the perfect addition to your outfit. We define it as a subtle fashion piece. It can be a subtle accessory or it can be the main focus of your outfit, it just depends on how you style this piece.
We love that it's chunky, we love the laser cut out detail, we love the edgy vibe it gives and we love the simple but dominant element that makes it a stand out piece and one of our favourites.
This gorgeous ring sells out quick, don't hesitate, get your order in today before they're all gone.
Shiny Finish
Cut-out Cross Chunky Silver Metal Ring

Material: Stainless Steel
Lightweight
Approximate thickness: 14mm
Statement Piece
60mm width ring (measurement of finger to fit ring)