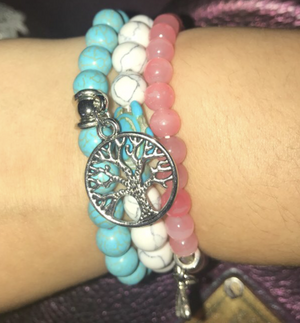 Handmade Turquoise Bracelet with "Tree of Life" Charm
This handmade turquoise bracelet with "Tree of Life" charm will add a touch of colour to your outfit, the finishing touch you are looking for. Make your outfit stand out with this handmade bracelet, after all they fit most wrists.
The charms are available in different styles: silver cross, hand-made, tree of life, and pearl - one looks great, how about wearing 2 or 3?-we love these charm bracelets so much we thought it would be a great idea to wear 4. Why not buy one and gift one, they do make great gifts for friends and loved ones.
Torquoise beads
Material: Zinc Alloy
Approximate measurement of bead: 6mm