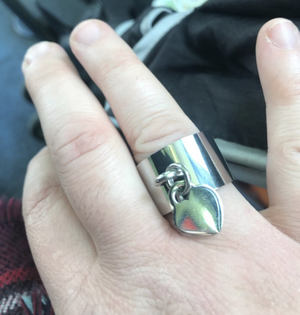 Stainless Steel Ball Charm Ring
There is some part of everyone that loves a good piece of oversized jewellery. Personally, we love that you can have some fun with big and bold accessory pieces. Take this stainless steel ring with ball charm, for example. The 12mm stainless steel ball is attached to a thick 15mm band.
If you are looking for a piece of jewellery that is just as bold as you, then you definitely need this ring. Though, whatever your style, this stainless steel ring will complement you in every way.
Approximate diameter of ball: 12mm
Approximate width of ring: 15mm
Material: Stainless steel
Ideal gift for any fashion-forward, stylish individual
60mm width ring (measurement of finger to fit ring)