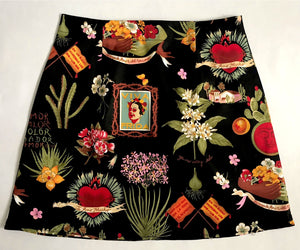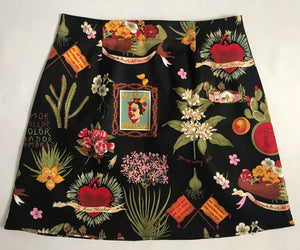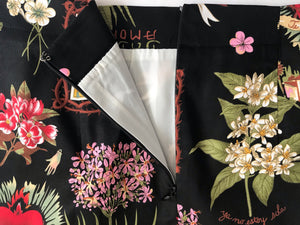 Viva Frida Kahlo Print Mini Skirt
The print of this skirt was inspired by the amazing Mexican Artist Frida Kahlo and her love of self portraits and her home.
Her work was also inspired by her love of nature. This vintage inspired print mini skirt is a respectful nod to her influence and creativity.
This A-line mini skirt is mainly cotton with some spandex, its a lovely vintage inspired print that sits a little low on the waist. (Please view image on mannequin) It Has a concealed zip at centre back with a hook fastening and full skirt Lining.
Its a very comfortable lightweight cotton fabric and great little A-line skirt for day and evening. Can also be worn 3 seasons out of the year.
We love this print and simple design, it's fun, cute and inspired.
Get yours now!!
Material: Cotton, Spandex
Measurements;
Size 10: waist 73cm, hips 96cm, Length 43cm
Size 12: waist 78cm, hips 100cm, Length 44cm
Please allow 1-2cm discrepancy in measurements.
Please note that print positioning may vary, if unsure please ask to view the skirt in your size before purchase to see the positioning of Freda Kahlo as no 2 positions are exactly the same.
IF YOUR SIZE ISNT AVAILABLE PLEASE SEND US AN MESSAGE AND WE MAY BEABLE TO GET IT FOR YOU.
Sizes available 8-16